Six Great Islands
One GREAT Place to Fish
and HAWAII FISHING NEWS brings it all to you!
Sportfishing in Hawaii is year-round



Aptly titled by HAWAII FISHING NEWS in 1977, the "Blue Marlin Capital of the World." Hawaii offers six species of billfish plus yellowfin (ahi), skipjack (aku), dogtooth, bonito, albacore and bigeye tuna. Other species of offshore game fish include wahoo (ono), dolphin fish (mahimahi), great barracuda (kaku) and rainbow runner (kamanu, or Hawaiian salmon).

Bottom fishing is also popular in Hawaii with good catches of snapper being made in depths of 10 to 100 fathoms.

Inshore waters of Hawaii, with 700 miles of fishable shoreline, draw the most activity from anglers. Heavy-duty shorecasting rigs allow anglers to tackle giant ulua (jacks) of up to 200 lbs as they prowl the reefs at night. Medium tackle and ultralight fishing clubs have sprung up in Hawaii as anglers have discovered the excitement of fishing for the many other species that make the reefs and sandy channels their homes.

Freshwater enthusiasts are not to be denied as Hawaii has more varieties of freshwater game fish than most areas of the mainland; these include largemouth bass, smallmouth bass, oscar, tucunare, channel catfish and rainbow trout.

What all this adds up to? Hawaii is a great place to fish!
---
HAWAII FISHING NEWS Subscription Info
Subscribing to HAWAII FISHING NEWS is easy! We'll even send HAWAII FISHING NEWS out via VIP Airmail to our friends on the mainland. Here are our subscription rates:

Hawaii In-State Subscription
1 Year (12 Issues with Almanac) ---------- $59
2 Years (24 Issues with Almanac) ---------- $99

VIP- Airmail to U.S. Mainland
1 Year (12 Issues with Almanac) ---------- $79

Canada-Airmail
1 Year (12 Issues) ---------------- $90

International - Includes Special Packaging
1 Year (12 Issues) ---------- $129 - Airmail

Please Send Check or Money Order (in U.S. Dollars) to:
HAWAII FISHING NEWS
P.O. Box 25488
Honolulu, Hawaii 96825
Phone (808) 395-4499
FAX (808) 396-3474
E-Mail fishnews@hawaii.rr.com



FIGHT FOR THE RIGHT TO FISH!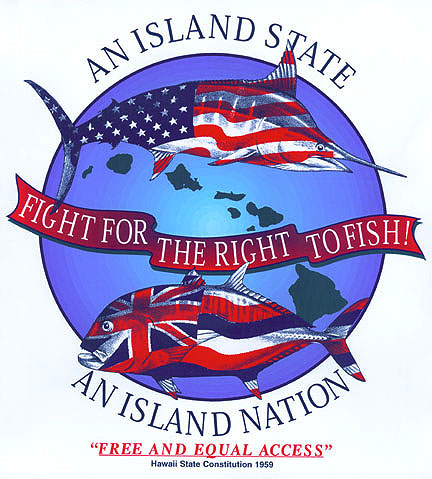 Support Hawaii's right to fish by purchasing a "Fight For the Right To Fish!" T-shirt. HFN is setting aside $1 from the sale of each T-shirt to create a special fund to not only battle for our ocean access but to create better habitat and enhance Hawaii's fishery.

Shirts cost:
$15 for Large and Extra Large sizes with pocket
$17 for XXL T-shirt with pocket
Add $5 for postage for first shirt and $3 postage for each additional shirt.

Send your order with payment to Hawaii Fishing News, P.O. Box 25488, Honolulu, HI 96825, phone (808) 395-4499, FAX 396-3474. Sorry, no credit card orders.